Blog
Posts for tag: gum disease
By Donald L. Hardee, DDS, PA
March 01, 2019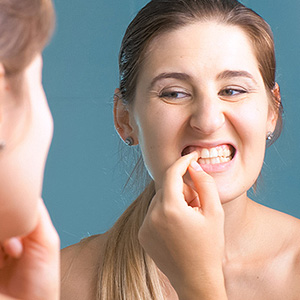 If you're over 30 your chances for developing periodontal (gum) disease are better than half. And it's not a minor matter—untreated gum disease can lead not only to tooth loss, but to an increased risk of cardiovascular disease and other inflammatory conditions.
Fortunately, we have effective ways to treat gum disease, even in advanced stages. But the best approach by far in avoiding a devastating outcome for your teeth is to prevent gum disease from developing in the first place.
It helps first to know how gum disease begins. The most common cause is dental plaque, a thin biofilm of food particles on tooth surfaces that harbors the bacteria that triggers the disease. If you keep your teeth clean of built-up plaque and tartar (calcified plaque) with daily brushing and flossing and regular dental cleanings, you'll minimize the growth of disease-causing bacteria.
If you don't practice effective oral hygiene, however, within a few days you could develop an initial infection called gingivitis. This form affects the outermost layers of the gums and triggers a defensive response from the body known as inflammation. Ordinarily, inflammation helps protect surrounding tissues from infection spread, but it can damage your gums if it becomes chronic. Your weakened gums may begin to detach from the teeth, forming voids filled with inflammation known as periodontal pockets. Eventually, the infection can spread to the supporting bone and lead to tooth loss.
In addition to a dedicated oral hygiene and dental care program, you should also be on the lookout for early signs of gingivitis. Infected gums can become red, swollen and tender to the touch. You may notice they bleed easily while brushing and flossing, or a foul taste or breath that won't go away even after brushing. And if some of your teeth feel loose or don't seem to bite together as they used to, this is a sign of advanced gum disease that deserves your dentist's immediate attention.
Practicing preventive hygiene is the best way to stop gum disease before it starts. But if gum disease does happen, catching it early can be a game-changer, both for your teeth and your smile.
If you would like more information on preventing and treating gum disease, please contact us or schedule an appointment for a consultation. You can also learn more about this topic by reading the Dear Doctor magazine article "How Gum Disease Gets Started."
By Donald L. Hardee, DDS, PA
February 09, 2019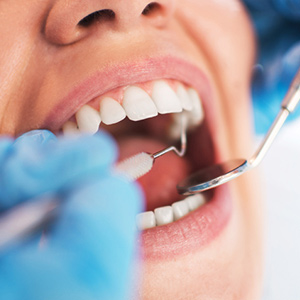 Periodontal (gum) disease is as common as it is destructive. Almost half of all adults 30 and older have some form—and those numbers increase to nearly three-quarters by age 65.
Fortunately, we have effective ways to treat this bacterial infection, especially if we catch it early. By thoroughly removing all plaque, the disease-causing, bacterial biofilm that accumulates on tooth surfaces, we can stop the infection and help the gums return to normal.
Unfortunately, though, you're at a greater risk for a repeat infection if you've already had gum disease. To lower your chances of future occurrences, we'll need to take your regular dental exams and cleanings to another level.
Although everyone benefits from routine dental care, if you've had gum disease you may see these and other changes in your normal dental visits.
More frequent visits. For most people, the frequency norm between dental cleanings and exams is about six months. But we may recommend more visits for you as a former gum disease patient: depending on the advancement of your disease, we might see you every three months once you've completed your initial treatment, and if your treatment required a periodontist, we may alternate maintenance appointments every three months.
Other treatments and medications. To control any increases in disease-causing bacteria, dentists may prescribe on-going medications or anti-bacterial applications. If you're on medication, we'll use your regular dental visits to monitor how well they're doing and modify your prescriptions as needed.
Long-term planning. Both dentist and patient must keep an eye out for the ongoing threat of another gum infection. It's helpful then to develop a plan for maintaining periodontal health and then revisiting and updating that plan as necessary. It may also be beneficial to perform certain procedures on the teeth and gums to make it easier to keep them clean in the future.
While everyone should take their oral health seriously, there's even greater reason to increase your vigilance if you've already had gum disease. With a little extra care, you can greatly reduce your chances of another bout with this destructive and aggressive disease.
If you would like more information on preventing recurring gum disease, please contact us or schedule an appointment for a consultation. You can also learn more about this topic by reading the Dear Doctor magazine article "Periodontal Cleanings."
By Donald L. Hardee, DDS, PA
July 04, 2018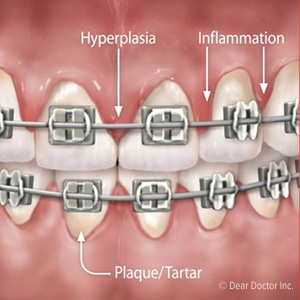 On your way to a more attractive smile, you'll have to deal with some inconveniences while wearing braces like avoiding certain foods or habits or dealing with possible embarrassment about your new "metal smile." But there's one consequence of wearing braces that could dramatically affect your dental health: the difficulty they pose for keeping your teeth clean of dental plaque.
Dental plaque is a thin film of bacteria and food particles that if allowed to build up on tooth surfaces could trigger tooth decay or periodontal (gum) disease. Brushing and flossing thoroughly every day helps prevent this buildup.
Unfortunately, metal brackets and wires can get in the way and cause you to miss areas while performing these hygiene tasks. This could cause plaque buildup in those isolated areas that could trigger an infection. And if you (or someone you love) are also a teenager, the natural adolescent surge in hormones can increase your infection risk.
If while wearing braces you notice your gums are reddened, swollen or bleeding when you brush, these are all signs of infection and the body's inflammatory response to it. The longer the infection continues, the weaker the tissues become, causing them to gradually detach from the teeth. Along with bone deterioration (another effect of the disease), this can ultimately lead to tooth loss.
To prevent this from happening, you'll need to be as thorough as possible with daily brushing and flossing. To help make it easier, you can use special tools like an interproximal brush that can maneuver around the braces better than a regular brush. For flossing you can use a floss threader to more readily guide floss between teeth or a water flosser that uses a pressurized stream of water rather than floss thread to remove plaque.
This extra cleaning effort while wearing braces can greatly reduce your disease risk. But you'll still need to keep an eye out for any symptoms like swollen or bleeding gums, and see your dentist as soon as possible. If the symptoms become severe you may need your braces removed until the disease can be brought under control. The health and future vitality of your teeth and gums is what's of primary importance.
If you would like more information on dental care while wearing braces, please contact us or schedule an appointment for a consultation. You can also learn more about this topic by reading the Dear Doctor magazine article "Gum Swelling During Orthodontics."